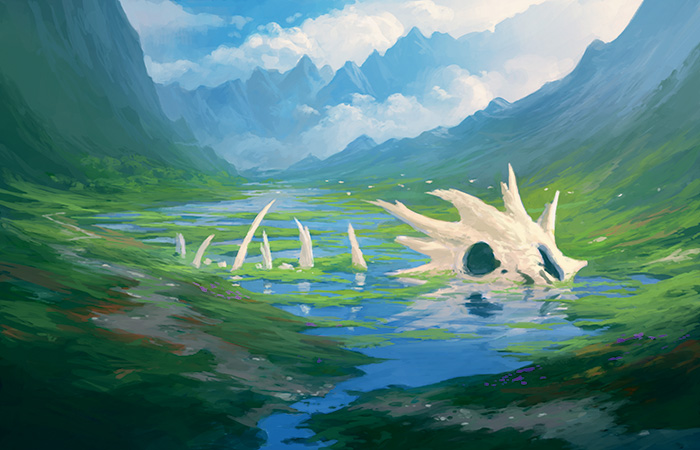 Well, finally after the intellectual injury that I felt during the #Theros period, a new Magic expansion comes. (To add offense to injury, I even liked Theros' art and mechanics, making me even more mad about the flavor...).
Khans of Tarkir looks like it will become one of those expansions that catch me completely, like #Innistrad or #Zendikar (although nothing can beat Zendikar for me, really).
What are some good bullet points about Tarkir as a D&D setting?
The land is wild and dangerous but includes some civilization in many different forms.
This is particulary good because it offers variety in playstyles. You could have dungeon crawls in the bowels of the #Sultai decadent cities, intirgue on their surface, wild adventures throughout #Temur and #Mardu territories, with Mardu offering a cool militaristic/nomad background and Temur focusing more on primal aspects. #Abzan organized cities would be good for crime and politics adventures, while #Jeskai monasteries could house arcane weirdness of all kinds.
Each clan has multiple focuses, allowing for different types of characters in it.
The Sultai (my favorite) are about necromancy, opulence, assassination, intrigue, and even world domination.
The Abzan are about law and order, with a focus on defense and passive isolationism.
The Temur are the go-to clan for primal forces, druidic magic, beasts and the wild in general, but also have a good bit of martial prowess in them.
The Mardu are the typical "horde" clan, the icon of the setting if you wish, with "raiding" being the standard form of living, but with some dark magic (especially concealment) in it as well.
The Jeskai are the most "enlightened" clan, with monks being prominent, but also wizards and a pursuit of knowledge and perfection in general.
There are a few nice peculiarities about magic in Tarkir.
The "morphs" are basically just concealed creatures or things that fight with some kind of elemental or purely arcane force power. There are artifacts and spells to look what these morph "clouds" conceal, and it's a form of magic available to all clans, something connected with the world itself maybe, worth exploring in D&D even as a new mechanic.
Dragons are apparently absent, but at the same time their presence is felt.
The spirit dragon Ugin is trapped somehow here in its homeland (although he was prominent in Zendikar, so it must be or have been a planeswalker), and Sarkhan Vol is a dracomancer. The spirits of dragons may be the basis of elemental/primal magic in Tarkir, and some dragons may still be alive, trapped in hybernation beneath the ices that they indirectly brought after their last war (some sort of nuclear winter!).
A guide to the setting: Part 1 (Intro, Abzan, Jeskai, Sultai) and Part 2 (Mardu, Temur, Planeswalkers)
There is even mention of locations and prominent NPCs. I'd say it makes for a nearly ready-to-play world!
Quite a few interesting races!
The new tage on naga, the brand new Ainok that come in canine or ursine variants, the extremely original take on djinn and efreet... There is really plenty of races to choose for Tarkir characters!
There are strong connections with Zendikar!!
This is not really an advantage of Tarkir as a D&D setting in general, but for me personally it is that and much more!

Clan Mechanics
I really tried to translate some of the clan mechanics to feats or some other kind of thing, but I must admit that even with my now long experience of translating even the most abstract Magic mechanics into D&D terms, this time I thought it was too much of a stretch. It's really not worthy in my opinion, and subclasses specific to the clans may do a much better job. I might change my mind on special feats, but it would entail changing the original mechanic very much, especially since some of them are just keywords that activate always on the same condition, but never having the same effect. These must change for sure, if they have to be set into feats, while they can retain their variability if set into different subclasses, or variant class features.

All in all, it's really not necessary to convert these signature mechanics, because more than anything they represent the style of the clan, which is already apparent if one builds a character well-inserted/themed in/around the clan.
Races! The Ainok!
Yes, I could not resist!
Ainok Traits
Ability Score Increase. Your Wisdom score increases by 1.
Size. Canine, desert-dwelling Ainok associated with the Abzan are human-sized or even a tad smaller, while the ursine Ainok of the Temur lands are much bigger, espeically broader.
Subraces. There are two subraces of Ainok: the canine Ainok allied to the Abzan, and the ursine Ainok allied to the Temur. They are very different.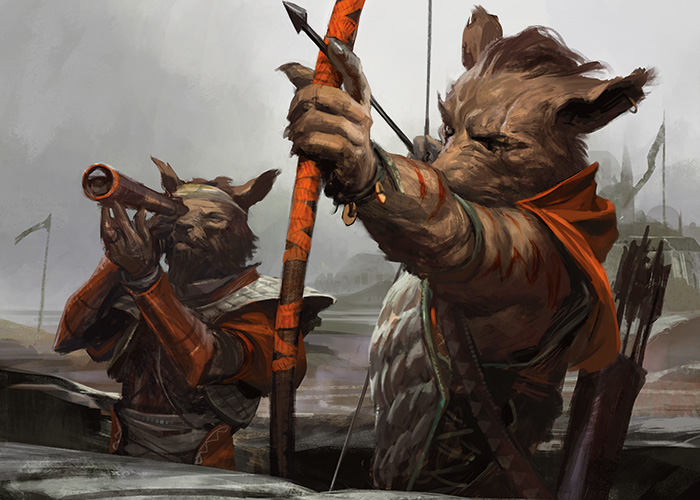 Canine Ainok
Canine Ainoks sometimes resemble hyenas, and are adapted to the desert of the Abzan territories, and the magic art of sandcalling.
Ability Score Increase. Your Dexterity score increases by 2.
Speed. Your base walking speed is 35 feet.
Survivalist: You are trained in the Survival skill.
Desert Adapted. You have the equivalent of the Natural Explorer Ranger feature focused on deserts and dry steppes. If you are a Ranger, you must select another territory, since the bonuses wouldn't stack.
Sandcalling Adept. You can conjure sand to make lightly obscured an area of 10 feet per 10 within a range of 30 feet. The effect lasts until the end of your next turn. You can do so a number of times equal to your Wisdom modifier. You regain all expended uses after a long rest. At 5th level, you can instead make the area heavily obscured.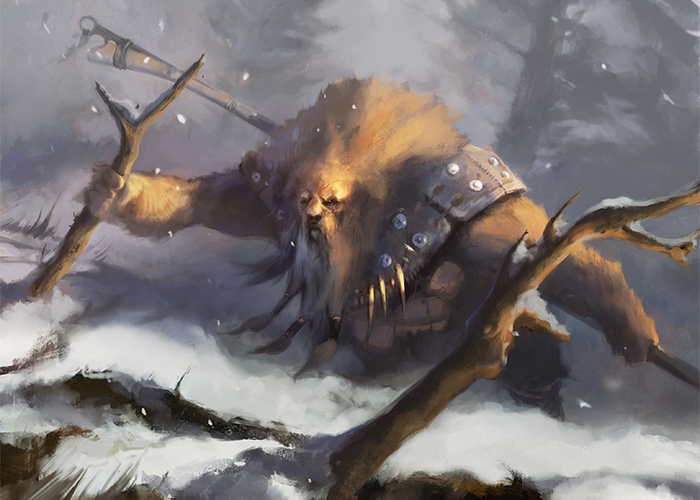 Ursine Ainok
Ursine Ainok resemble bears, and are adapted to the cold sub-arctic territories of the Temur clan.
Ability Score Increase. Your Strength score increases by 1, and your Constitution score increases by 2.
Speed. Your base walking speed is 25 feet.
Cold Adapted. You have Resistance to Cold damage.
Broad Build. You have Advantage on Shoving and Grappling checks and count as Large for the purpose of carrying capacity and the amount of wight you can lit, push, or drag; but you have Disadvantage on attacks and Dexterity ability checks and saves when confined in a 5-feet wide space.
That's all for now folks, please provide your feedback and ideas!